Welcome back to the 54th
I'm making a change to the party starting TODAY!
I will now be allowing links to shops,
as long as the item is a VINTAGE ITEM,
so feel free to share your Etsy shop listings, etc.
Just remember, the items MUST be vintage.
This is the place to share anything
old, treasured, passed-down or tattered.
Share anything vintage (or newly created to look that way!)
Please take a moment to
add the party button to your blog and help spread the word.
Recently, I shared 4 old milk bottle caps images
Check out this adorable table she restyled using that image!
I am in love with this little table - Well done, Liz!!!
always comes up with fun and original
new uses for kitchen castoffs...
like this bundt pan autumn "wreath". Too cute!
Anne @ White Lace Cottage
brought home a wonderful old dairy scale
and found the perfect spot to hang it over her kitchen sink.
I love old signs and really love the one created by
I like the unique shape and the wood trim she added to the top
was the perfect finishing touch.
hangs vintage sewing drawers on her
wall for extra storage and unique wall displays. Great idea!
Sue @ Collect In Texas Gal
found a gorgeous hand-crocheted tablecloth at
a thrift store that included information about the person
who made it, as well as the original pattern from the 1930's.
Doesn't it look gorgeous adorning her dining room table?
Jann @ Have a Daily Cup of Mrs. Olson
was given this fabulous cabinet by her daughter.
It looks fantastic dressed out for autumn on her porch.
Miranda @ Pressing
canned a big batch of Black Plum Jam and her photo had
such a charming, yesteryear look, I just had to share it!
Feel free to grab this button if I featured you today!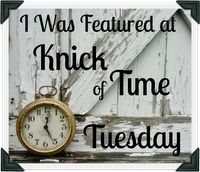 You'll also be pinned on the
Please, do the following before linking up:
1. Are you following Knick of Time ?
If not, I hope you'll do so now - thanks!
2. Please only link up your
vintage-style
treasures.
No food, giveaways, link parties or posts that aren't vintage-style.
Those links will be deleted.
3. Post a link back within your post, so others can join the party.
Only those who link back will be featured.
Looking forward to seeing your vintage style!
Angie
Shop Knick of Time - 10% Discount Code 10SPECIAL